Barry Bostwick - Randall Winston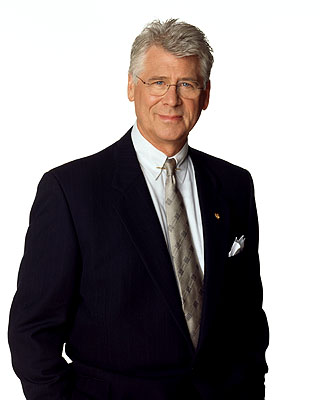 Randall Winston a toutes les qualités pour être maire : incompétent, maladroit, légèrement égoïste et qui n'a de surcroit, aucune conscience de ses responsabilitées. Heureusement que Michael Flaherty le sauve de toutes les situations délicates et difficiles dans lequel Randall se met. A la mairie, tout le monde est prêt à travailler 24h/24 et 7jrs/7 pour l'aider. C'est aussi un grand passionné en ce qui concerne les femmes.
Barry Bostwick
Né le 24 février 1946 à San Mateo, Californie. Sa grande taille (1m95)
domine peut être physiquement les autres personnes mais comme acteur, il se fond avec les autres personnages, jouant toujours à la perfection. Il a un
talent incroyable et il peut jouer un large éventail de rôles. Il a été
l'idole de nombreuses femmes.
Il a suivi les cours de la School of Performing Arts in San Diego,
California et ceux de la New York University Graduate School of the Arts.
Il a épousé en première noce Stacy Nelkin - ils se sont mariés en 1987 et
ont divorcés en 1991. Il et actuellement marié avec Sherri Ellen Jensen. Ils
se sont mariés en 1993 et ils ont 2 enfants - Brian et Chelsea. Les
Bostwicks habitent dans l'état de New York dans une ferme historique.
En juillet 1997, Mr. Bostwick a subi une opération de la prostate qui à ce
jour a été couronnée de succès et il milite pour la détection précoce du
cancer de la prostate. A cause à son dévouement et sa détermination Mr.
Bostwick a gagné l'Award du Courage.
Sa filmographie
1971 : Jennifer on My Mind : Nanki
1973 : La Planète sauvage : Narrator (English-language version)
1974 : Road Movie : Hank
1974 : Slither (TV) : Dick Kanipsia
1974 : The Chadwick Family (TV) : Tom McTaggert
1975 : The Wrong Damn Film : Alex Rounder
1975 : The Rocky Horror Picture Show : Brad Majors
1977 : The Quinns (TV) : Bill Quinn
1977 : Razzmatazz (série TV) : Host (1977-1978)
1978 : Movie Movie : Johnny Danko / Dick Cummings
1979 : Murder by Natural Causes (TV) : Gil Weston
1979 : You Can't Take It with You (TV) : Anthony Kirby, Jr.
1980 : Rupture fatale (Once Upon a Family) (TV) : Henry Demerjian
1980 : Scrupules ("Scruples") (feuilleton TV) : Spider Elliott
1980 : The Silent Lovers (TV) : John Gilbert
1981 : Foul Play (série TV) : Det. Tucker Pendleton
1981 : Red Flag: The Ultimate Game (TV) : Maj. Jay Rivers
1982 : Working (TV) : Steelworker
1982 : Megaforce : Ace Hunter
1983 : L'Espace d'une vie ("A Woman of Substance") (feuilleton TV) : Maj.
Paul McGill
1983 : Summer Girl (TV) : Gavin Shelburne
1983 : La Vie secrète d'une étudiante (An Uncommon Love) (TV) : Mr. Kinser
1984 : George Washington (feuilleton TV) : Gen. George Washington
1985 : Prête-moi ta vie (Deceptions) (TV) : Grant Roberts
1986 : Betrayed by Innocence (TV) : Nick DeLeon
1986 : Pleasures (TV) : Ben Scott
1986 : George Washington II: The Forging of a Nation (TV) : George
Washington
1986 : Dads (série TV) : Rick Armstrong
1987 : À nous deux, Manhattan ("I'll Take Manhattan") (feuilleton TV) :
Zachary Amberville
1988 : Body of Evidence (TV) : Alex Dwyer
1988 : Addicted to His Love (TV) : Larry Hogan
1988 : War and Remembrance (feuilleton TV) : 'Lady' Aster
1989 : Parent Trap III (TV) : Jeffrey Wyatt
1989 : Le Secret de Château Valmont ("Till We Meet Again") (feuilleton TV) :
Terrence 'Mac' McGuire
1989 : Parent Trap: Hawaiian Honeymoon (TV) : Jeffrey Wyatt
1990 : Aladdin (TV)
1990 : Le Dernier sous-marin (Das Letzte U-Boot) (TV) : Capt. Hawkins
1990 : The Great Air Race (TV) : Roscoe Turner
1990 : Challenger (TV) : Comm. Francis R. (Dick) Scobee
1991 : Captive (TV) : Paul Plunk
1992 : Russian Holiday : Grant Ames
1993 : Praying Mantis (TV) : Don McAndrews
1993 : Les Aventuriers de l'Amazone (Eight Hundred Leagues Down the Amazon)
: Garral
1993 : Between Love and Hate (TV) : Justin Conrad
1993 : Weekend at Bernie's II : Arthur Hummel
1994 : Danielle Steel: Il était une fois l'amour (Once in a Lifetime) (TV) :
Dr. Matthew Dane
1994 : In the Heat of Passion II: Unfaithful : Phillip
1995 : 919 Fifth Avenue (TV) : Mr. Lawrence Van Degen
1995 : The Secretary (TV) : Eric Bradford
1995 : Project: Metalbeast : Miller
1995 : Le Retour de Rick Hunter (The Return of Hunter) (TV) : Matt Sherry
1996 : Agent zéro zéro (Spy Hard) : Norman Coleman
1996 : Espions en herbe (The Secret Agent Club) : Vincent Scarletti
1996 : A Different Kind of Christmas (TV) : Frank Mallory
1997 : Lexx ("Lexx: The Dark Zone") (feuilleton TV) : Thodin
1998 : One Hot Summer Night (TV) : Art Brooks
1998 : Des hommes en blanc (Men in White) (TV) : President Smith
2003 : The Skulls III : Nathan Lloyd
2003 : 101 Dalmatians II: Patch's London Adventure (vidéo) : Thunderbolt
(voix)
2003 : Swing : Freddie
2006 : Chestnut: Hero of Central Park : Thomas Trundle